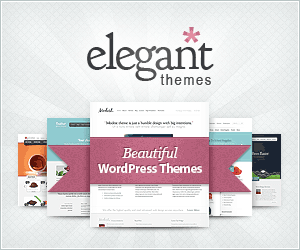 Well for starters, in this internet marketing business you will find that you buy a lot of products to see if they can help your business or not? Unfortunately not all of them turn out to be useful, but I can say with clear confidence that my Elegant themes membership is a bargain! I have written articles about buying internet marketing products but I rarely seriously recommend many products on this blog.
As you know, there are just so many fantastic plugins and themes you can get, but for those who own a WordPress blog, you will need no introduction to Nick Roach – the man behind Elegantthemes.com. Nick designs his own themes for his users and the basic intention of these themes is to create an elegant, simple and clean pack of uniqueness and style.
These themes intend to give beginners a chance to know the full functionality of their blog without having major website designing knowledge. His innovative designs have definitely made him popular and he is considered one of the best in creating awesome, yet user-friendly themes for WordPress blogs.
I am probably their biggest fan and I practise what I preach by using Elegant themes on many of my blogs. Here is one example http://wordpresswebsitehost.com/. I have tweaked this theme a bit to make it my own, but I am extremely happy and it converts too! Here is a screenshot just in case you are too lazy to click the link.. If you scroll down the home page it gets more interesting.
Why I Will Never Cancel This Premium Themes Membership
Easy functionality
One of the biggest advantages of Elegant themes is its user friendliness that allows users to manage their own website in terms of design and programming without much knowledge in it. Users can use their preferences on their blogs and tweak it the way they want their blog to look and feel. The options page in the E. panel allows any user to customize their site with the help of numerous widgets on the sidebar, custom images, gravatar, search bar and numerous other features. A slider for recent post, automatic resizing of images and a drop-down menu are some of the best easy-to-use options.
Excellent graphics
The themes that come from the site have excellent high resolution graphics and most of them come with numerous color option schemes. They offer an excellent contrast ratio and yet do not distract the viewer while reading text. The background offers soothing effects to make viewers more comfortable when they read and stay on a site. The site today offers more than 60 different themes to choose from and if you have several websites you can totally make each one unique. Elegantthemes by far, offers some of the most beautifully designed graphics.
Customer support
The customer support for installation and resolving problems on these themes is excellent. The support forum offers consistent support where one can post their queries and questions or search through previously solved threads. So, if you have some compatibility issues while installing your theme, customer support is always ready for you. Each theme has its own forum so it is not hard to find where to ask your questions.
Pricing
Compared to various other theme providers like Woothemes and Studiopress, Elegantthemes offers some of the most economical plans that charge you less than $40. This is not all, with $40 you can use unlimited number of times all the themes developed by Nick. However, once you unsubscribe to the plan, you will no longer gain access to your membership and its corresponding benefits. You will also not gain any access to any future releases. I could not possibly give up my membership as there are too many cool, innovative themes being added to the site.
Makes You Look Like a Pro
This is the biggest advantage to the Elegant themes membership, the fact that these themes will no doubt make you look good. You do not need to be a pro web designer or spend big dollars on web design to have a website that looks like it has been professionally designed. Thanks to Elegant Themes, we can all have a directory website, an Ecommerce store, a real-estate website, and more..
Saves Me Time
My time is precious and it took me years to realize, that YES you need a professional looking theme, but you do not have to spend too much time on developing this yourself. In fact web design for me is a complete waste of time. I am far better off to get straight into blogging and earning money, and with Elegant Themes I can do that! I can install a WordPress theme in minutes and get straight to work on building the blog.
Considering the excellent graphics, awesome pricing, unbeatable customer support and user-friendly options, Elegantthemes is considered to be one of the best in the designing business. The package offered on the site is best for those who have multiple sites and need to make each site look unique as well as professional. There is also a developers license available so you can use the themes for your clients websites which is also a great price for a years membership.
You tell me, why would I ever cancel this premium themes membership?