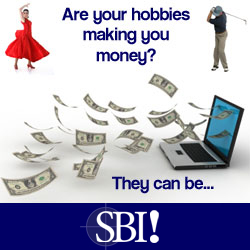 Majority of people I met online, started their websites with the intention to make money from them. However, a lot of them also have this wrong idea that it is very easy to do it and that putting up a few pages online are going to make them rich.
That can not be further from the truth, because even behind some of the fast successes online is hard work. Learning to monetize a website and doing it the right way is not easy.
I believe that the most important strategy in making money online is getting people to trust you. So if you are new and no one knows you – no one will trust you, hence you will have a hard time to make any money.
That means your main goal at the beginning should be building trust not chasing money. When you get to the point that people trust you, the money will come.
So how can you make this process easier for you and start making money from the get go?
Pre-selling To Stand Out
Let's say you are going to focus on the most common way of making money for bloggers – affiliate marketing. And let's say you will promote the same products everyone else promotes, like some "Social media product XYZ". How are you going to get people to buy it from you and not someone who has been online much longer than you?
Pre-selling is your key here. Instead of putting ads in your sidebar and affiliate links everywhere, remove all ads and focus on preseling the product.
Step one would be to buy the product you want to promote. You can not promote a product if you don't know it in and out. Once you bought it, dig deep into it so you can know all the details, how to use it, how to get the most of it, what are its faults and so on.
When you know the product almost better than the creator, write a detailed review. By detailed I mean realy, really detailed. What did the sales letter promise, did it deliver the promisses, how did you put the advice to use, what results did you get and so on. Make this review a page on your blog (rather than a post) and add affiliate links to the product.
If your review ends up to be a negative one because the product isn't good or doesn't bring the promissed results, say that too. There are many people pushing the same products just because they have good affiliate commissions. But in reaality, the products are not good. Telling it as it is will get people to trust you because you are not pushing the same story as everyone else.
Just BE Honest
I had this happen to me with a product everyone was raving about so I bought it and it was a piece of cr*p. I wrote a post about it, how I ran into bugs while working with the software, how some of the promises weren't delivered, how parts of the sales page were just a hype and so on. People loved it (except for the creators of the products and a few of their bigger affiliates) and that is all that matters. I saved a lot of those people money they would waste on the product and they could see I was an honest person that was not after their hard earned cash – win-win for everyone.
What if you like the product? Tell people how much you like it, how did you implement the tips, how great the results were for you and so on.
Bottom line, what ever you think about the product, know it well and tell the truth.
But this isn't all. This is just the start. Now it is time to actually start promoting the product.
Instead of writing your own version of their sales letter, write tutorials on how to use the product, how did you implement the tips in some inovative ways to get even better results, and so on. Just keep writing about your experiences with the product.
Of course, this is the time where you are going to start selling. And this is the time when your detailed review is going to start working for you.
Every time you write a post related to the product instead of linking to the product with your affiliate links you will link to – the review post. So this is how it would look:
This way you are almost making a sales funnel for the affiliate offer.
How Does This Relate to Building Trust?
Number one is – you aren't pushing the product into anyone's face. You are helping people with tips on how to use the product and get the most out of it.
Then you aren't linking directly to the affiliate offer (that yells BUY, BUY, BUY) but to your review that helps more!
That is so much information on a product, that if people are ready to buy they will buy through your link because we tend to feel "obligated" to say thanks to those who help us. Well, I guess I do at least 🙂
Another benefit of this approach is that every time you are linking to the review post, you are building links to it, so you will eventually rank the review page on Google and get more people to it. When a new person lands on such a detailed post, they may just go ahead and buy it right there, since you were so helpful.
Conclusion
This approach is working smarter and not harder. And once you write that detailed review, you don't have much to do, just a post on the product from time to time. Multiply this with a few selected products you want to promote and you can have  great results from the very beginning.